Previous millinery courses
These face-to-face courses have already taken place and may run again soon.
Silk Abaca Turbans
Learn traditional millinery techniques while making a turban. You will block and reinforce a hat base, then shape and drape to make a delicate flowing turban from lustrous silk abaca.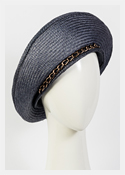 Berets and Caps from Buntal Mats
Learn to make caps and berets from a buntal mat, using a flat pattern technique and sewing machine. These style hats are easy to wear and can be dressed up or down for everyday wear. On this 2-day course you will get the chance to create 2 hats.
Saucer Hats
The saucer hat suits any face shape and can be trimmed in a host of ways to reflect the wearers personal style. Learn how to manipulate the base buntal material to create this versatile shape. The only block required for this piece is a simple dome block. This workshop gives you a great set of skills and shape to add to your millinery repertoire.
Suitable for beginner to advanced millinery students.
Upcycle your Hat
Perhaps you have a contemporary or vintage piece you would like to freshen up? Bring it with you to this evening demonstration and milliner Louise Macdonald will show you how to bring new life to your old hat. Learn how you can clean, restore shape, repair and renovate giving your hat a new lease of life. This demonstration focuses on felt and straw hats.
Dior Brims from Buntal Mats
Create a structured "Dior" style brimmed hat from a buntal mat without the use of blocks. When you first venture into the world of millinery, compiling a collection of good blocks happens over time. In the absence of an extensive block collection, the ability to make and create a diverse range of hat shapes is a bonus.
In this 1-day workshop you will learn techniques that enable you to create a hat with structured large down turned brim without blocks, giving you skills to create your own shapes.
Twist and Shape Sinamay Manipulation
Understanding the bias weave and how it can be manipulated to create 3D shapes is one of the keys to using traditional millinery materials. In this weekend workshop you will come with a pre blocked base and make several trims including a double-sided sculpted trim. You will also be shown how to create a sinamay brim without blocks.
Sinamay Brim Extensions
A sinamay brim extension is a light and delicate way to extend or finish a brim. Learn this technique with Louise Macdonald to complete a parisisal straw hat with a brim. Suitable for intermediate or advanced millinery students.
Receive information by email
Join a course
Read testimonials
View photos
Join millinery students on Facebook

Enquiries – Contact Louise Macdonald Milliner

share this content: